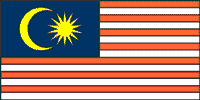 Visiting Malaysia is always special to us, because we have many family and friends who live there. Jen and her parents were born there, her father still lives there, and Winston's mother was also born there. But there are many places in Malaysia that we haven't visited, so in addition to visiting relatives and friends, we made an effort to see some of these places as well.
We ended up visiting Taman Negara National Park, where we had a rather touristified version of a jungle experience, with several close encounters with exotic insects. We visited relatives and friends in Kuala Lumpur (KL) for a while, and then again in Kota Kinabalu (KK) on the Sabah side. We continued visiting relatives on the island of Labuan, and then took four days to explore the underwater world of Sipadan Island; our dive experience there now ranks among the most memorable activities on our trip to date.
Jen's relatives will be interested in the Jen's Family & Friends page. Otherwise, enjoy the pictures below, and on the special underwater section of the Sipadan page.