There is so much to share about Turkey that we've created three pages: Turkey Page One and Two, and Cappadocia, which was so amazing it deserves a page of its own. The three weeks we spent in Turkey were simply not enough, but we did spend enough time there to be able to appreciate how much the country had to offer.
Cheers to our good friends Husayn in Istanbul, where we stayed at Hotel Peninsula (a great little place in Sultanhamet http://www.hotelpeninsula.com) for an entire week. We met all kinds of great people throughout our Turkey travels; interestingly, we've met more North Americans here than we did in any of the previous countries we've visited so far. Finally, thanks to Taner at Let's Go Travel (http://www.letsgo-turkey.com) for arranging a great trip for us, and for helping us out with getting our Indian Visa.
If you get a chance to, definitely visit Turkey; it's an easy country to travel through and is rewarding for all kinds of reasons: the food, scenery, culture, history, and most of all, the people.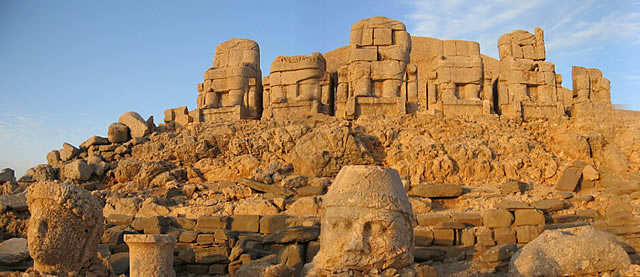 The massive fallen heads sitting atop Mt. Nemrut in eastern Turkey. See more Mt. Nemrut here.


The fascinating rock formations of Rose Valley, in Cappadocia. See more Cappadocia here.