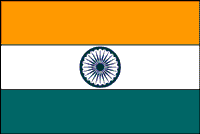 The sights, sounds, and smells of India were overwhelming in more ways than one. As experienced as we've been travelling independently so far, India stretched our capacities even further and bent our minds slightly out of shape. Nothing can really prepare you for India than India herself... our visit was an incredible, enlightening experience.
Oddly enough though, when we crossed the border from India into Nepal, we were feeling reluctant to be leaving, but somewhat relieved at the same time. Travelling through India required energy that we hadn't yet had to draw upon during our visits to other countries. People seemed to either love or hate their experience in India; no matter your feeling, there is no denying that this country leaves a lasting impression!
Once again, we've got so much material to share that we've produced multiple pages for this country. Don't forget to check out India - Page Two as well.
Mumbai, Udaipur, Mount Abu

---
Our visit to Mount Abu was a pleasant surprise, mainly because we weren't sure what to expect, seeing as Mt. Abu isn't one of the more popular tourist destinations; it's more popular with Indian tourists. Well, due in large part to the hospitality of the family who ran the Shri Ganesh Guesthouse in Mt. Abu, our planned one night visit there turned into four nights! Our friend Lalit led us on several different hikes around the Mt. Abu area each day, taking us to places way off the beaten track. The incredibly ornate Dilwara Jain Temple Complex was so impressive, we think that it was an attraction that rivalled the Taj Mahal (plus it was free, vs. 750 Rs at the Taj!). Mt. Abu is what we would consider a must-see in India.

Photography isn't allowed in the Jain temple, so this is a picture of a postcard, thus the lower quality image. The intricacy and detail of the white marble carvings on the columns was as impressive as the variety of the individual carved images of gods and mythical figures on the ceilings.
---
Jodhpur, Pushkar