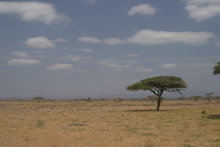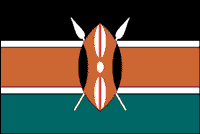 Talk about choosing a "rough" itinerary to start off our One Year, One World tour. Our visit to Kenya was quite a bit different from our first trip three years ago, where we did the typical tourist visiting of the national game parks. Instead, we headed to the northern expanses of Kenya into the Turkana region, where dry desert, barren wasteland, and hundreds of kilometers of bumpy, bone-jarring, pothole-filled road were waiting to greet us. It was absolutely fantastic.
After meeting up with Anne and Dave in London and flying together to Nairobi, we separated to go on our respective tours (they were going to visit the Mara, Naivashu, Nakuru, and all the other parks we had visited previously), while we boarded a Game Trackers safari vehicle to head north, through Samburu, up to Marsabit, across the Chalbi desert to Lake Turkana, and then back down to Nairobi via Maralal.
If you're looking for a comfortable safari trip with lots of game viewing, then this probably isn't the ideal safari trip for you. Even after reading the itinerary, we were surprised to discover how rough most of those roads in Northern Kenya were. Driving for up to eight hours a day through ridiculously bumpy terrain was actually pretty fun for us, but we'd certainly suggest doing a more "typical" safari for at least the first time.
On the way north, we did spend two nights in Samburu National Park, the same park we visited with Guerba last time. Here, we were lucky to spot cheetah, lots of elephants, giraffe, lions, and many other animals. But this was our only taste of game viewing on this trip; most of the rest of the trip was from an environmental/cultural angle.
One definite highlight was a visit to a small Samburu village outside the national park, where, although somewhat contrived, we were treated to a glimpse of how the Samburu people, cousins of the popular Masai, lived and survived in a region less frequented by tourists. We got some great pictures of the Samburu people in this village.
The "roads" north from Samburu just barely qualify for that definition. The road between Samburu and Marsibit (supposedly the highway connecting South Africa to Egypt) has got to be one of the roughest roads that qualifies to appear on a map. Amazingly, our resilient tour group got quite accustomed to all the bumps and jolts that our safari truck encountered. Driven by our capable tour guide Rufus, that truck broke no fewer than two springs and got stuck twice on our trip, but it still held together, and probably will for many more years.
Staying at the near-abandonded lodge in Marsibit, we were treated to a visit from a huge family of baboons, and were all wakened by a trumpeting elephant whose call echoed magnificently in the natural crater that was formed by the extinct volcano.


We had to spend several hours in the town while the truck was under going repairs, and Winston made the most of it by making a friend by the name of Issa, a shoe repair man who eventually took him very proudly to visit his wife and seven month old son.

Having never crossed a desert before, not even in Arizona, we had a great time viewing the changes in scenery and the nomadic tribes that we passed as we trucked along. Luckily for us, it was their "winter", which meant that temperatures were around 34 Celcius or so during the day, instead of 42, their usual summer temperature. On day four of the trip, on the way to Lake Turkana, we actually had to dig out the truck twice; once in the mud, and then again in the sand, which was quite an adventure in itself.
Arriving upon the shores of Lake Turkana was a great welcome because the campsite there was simply incredible. We weren't going to do any heavy duty driving for a day and a half, which was a welcome respite from the grueling drives of previous days. Game Trackers had built several traditional Turkana huts that faced the lake (and the many crocodiles in the lake) that we slept in. The only downside to that site was the gale force winds that swept through the area on both nights; the winds were so strong that very few people got much sleep there!




At Lake Turkana, we also got to visit the dwindling Moro tribe, and learn a bit about their simple fishing way of life. People seemed to be genuinely more friendly in the north, perhaps due to the fact that there were so fewer tourists than the popular game parks in the south.
Driving back down to Nairobi took us along more bumpy roads and more incredible scenery changes. The temperature went from blazingly hot in the desert to incredibly chilly in the mountain ranges. We climbed in and out of the Great Rift Valley several times as we eventually made our way down to Nairobi.
As always, we met some great people and made some new friends on this tour. Cheers to Silvie (Swiss), Abbe and Silvie (Dutch), Shan (Welsh), Bart and Vierla (Belgian), and Cara, Erin, Roddy, and Barrie (Scottish). You guys will all have to look us up when you visit the West Coast of either Canada or the US!
Special thanks to Rufus, our veteran guide and driver, and Migwi, our excellent "Welcome to the World" chef.
Back in Nairobi, after hooking up with Anne and Dave, we had very nice surprising half-day excursion to the Paradise Lost caves and coffee plantation; we really enjoyed learning a bit more about the recently discovered caves and taking a visit through the coffee harvesting process. Chewing sugar cane and drinking tons of coffee was probably not the healthiest lunch, though.
Incidentally, if you're looking for a clean, affordable place to stay in Nairobi and don't necessarily need a fancy hotel, try the Nairobi Backpackers (www.nairobibackpackers.com or (254)-(0)20-2724827) and ask for Ken. We had a great time sharing stories with our friends there; we'll definitely be making accomodations there the next time we're in Nairobi!
Now as we relax, shower, and hang out in Nairobi for a few days, we look forward to having some great game drives in the next country we're visiting, Tanzania.